When the time comes to make repairs to your roof, you may hesitate to contact a professional roofing contractor. Why? Perhaps a few common misconceptions are holding you back.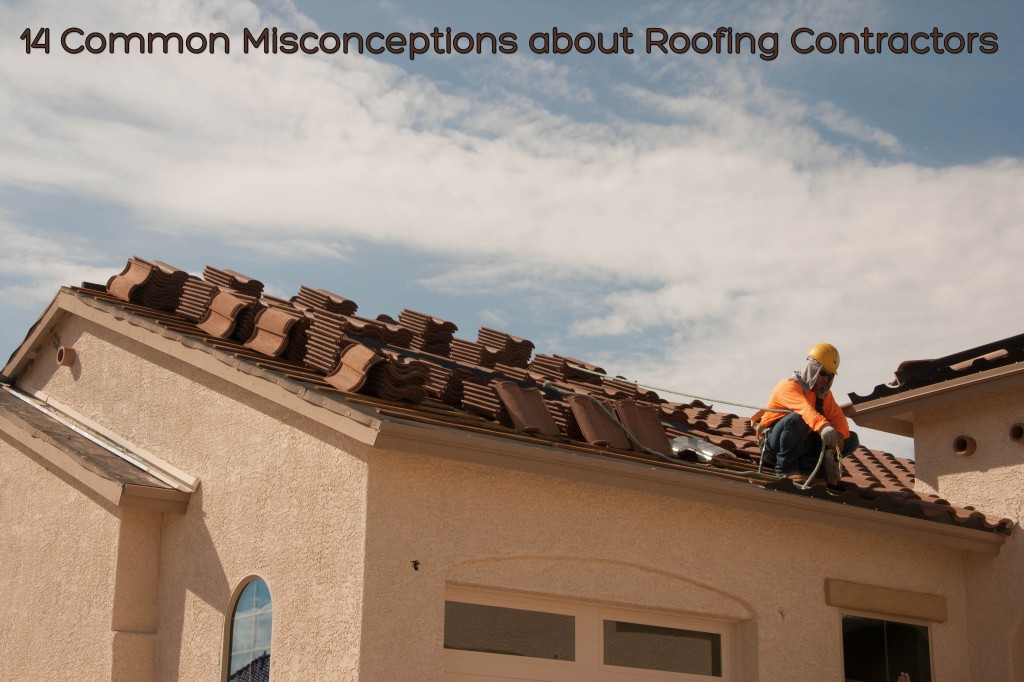 You don't need one. You can work on the roof yourself.
Some people think they can tackle any home improvement project under the sun without professional assistance. But you can't expect to get anywhere if you have no experience. You need to know what you're doing – a roofing contractor brings knowledge in spades.
All you need to clean a roof is a rag and some water.
A wet rag isn't going to remove mold, dirt, and grime effectively. A quality roofing contractor, if he offers the service, uses a special mix of environmentally friendly products to keep your roof looking like new.
Anybody can be a contractor.
They can if they go through a thorough training process. To become a certified roofing contractor, you need to study and take exams. Dedication is a must.
Contractor is just a fancy word. It doesn't mean anything.
On the contrary, thousands of people strive to become contractors every year. The word means something to these individuals. A roofing contractor carries weight in his community.
You can't trust contractors.
Some are bad; some are good. This comes with every profession. Spend the time to invest in a reliable, licensed and insured roofing contractor.
Contractors charge too much.
Keep your budget from suffering by doing research. Keep in mind the value of your contractor. You're paying them for the labor, specifically to put a roof over your head. Don't let anyone take advantage of you but keep in mind that good quality work does cost more.
Contractors don't return calls or emails.
An excellent roofing contractor is willing to work with you and answer your questions. While it's true, we're often on the go, leave a message and we'll always return your call or email.
Cleaning a roof only takes a few minutes. You don't need a contractor to do it for you.
The cleaning process is an involved one. If you want every last inch of your roof to look great, a few minutes won't cut the mustard. Don't be afraid to ask for a cleaning. It's often a lot scarier than it looks on the roof and if you're not a professional the little thing might spook you. Protect yourself and your home by letting us do the cleaning for you.
It's perfectly safe to stand on the roof and watch the contractor. He won't mind.
This is dangerous. Never stand on the roof – or attempt to get there – just to keep an eye on everything. We don't even recommend you trying to get on your own roof by yourself when we're not around, yet alone when we're there. It's dangerous to shadow a contractor while they're trying to get work done.
     10. Contractors don't care about safety.
Safety is at the forefront of any roofing project. If your roofer doesn't care about safety then I would think twice! A good way to check out the integrity of a contractors projects is stopping by another job site they might be working on to see how they handle themselves.
11. A contractor will make a bad situation worse.
Professional roofing contractors have the skill to handle any situation. They work hard to give the best results. A bad contractor will make a bad situation worse, but the right ones, like Nor-Cal Roofing will make your life easier and help streamline your projects.
     12. It's hard to find a suitable contractor.
Ask the people in your community for advice. A roofing contractor that fits your needs is a referral away. You can always trust the word of friends, families or even colleagues.
 13. A contractor can wear whatever he wants for a job.
Roofing contractors must wear specific outfits to avoid injury and we pride ourselves on wearing the appropriate shoes to keep our selves, and your home, safe.
 14. Contractors don't need gloves for any roofing work.
Gloves protect your hands from cuts or bruises. Roofing contractors carry them for any job. Any contractor who shows up without gloves is a fool.
Nor-Cal Roofing is Northern California's premier choice for residential and commercial roofing projects in Chico, Orland, Corning, Oroville, Hamilton City, Durham, Paradise and other surrounding North State areas in Butte and Glenn Counties. If you would like an estimate or consultation on roofing services please feel free to call us at (530) 892-9960!
Comments
comments