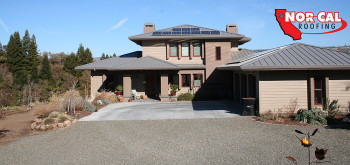 Welcome to Nor-Cal Roofing, commercial division – home to Chico, Orland and other surrounding areas favorite choice for your full-service roofing repairs, installations and new construction needs for your business.
If you're in the process of a new construction project, repairs or just in need of a new roof due to an outdate system – Nor-Cal Roofing will be able to handle your commercial roofing project. From flat and green roofs to TPO (thermoplastic roofing) and EPDM rubber (ethylene propylene diene monomer) roofing we're able to help you out with any roofing construction project, there's no project too big or too small, we'll be able to help you out with it all.
When it's time to start new construction, repair current roofs or merely repair the roof your business or commercial property currently haves – you need quality and a company that you can trust, Nor-Cal roofing is the company for you. Whether you're a investor, building owner, or property manager – chances are, when you're ready to invest your time and money into a commercial building – a sturdy, reliable roof is reliable and essential. From low-slope roofing to steep-slope roofing – our professional and certified team of professionals are ready to make sure you have the right roof over your head.
Whether you're starting on a new venture or building on an old one, it's important to have roofing done right, but more than that, it's important to work with contractors that you trust. Nor-Cal Roofing has worked very hard over the past 14 years to establish a crew that goes above and beyond your average construction or roofing crew. We pride ourselves on our ability to work hard, get the job done right and to build a real relationship with our clients. It's imperative to work with an honest company that you can trust, Nor-Cal Roofing is more than ready to be that company for you.
Nor-Cal Roofing is Northern California's premier choice for commercial roofing projects in Chico, Orland, Corning, Oroville, Hamilton City, Durham, Paradise and other surrounding North State areas in Butte and Glenn Counties. If you would like an estimate or consultation on roofing services please feel free to call us at (530) 892-9960!