We've all got 99 problems but hopefully a roof isn't one of them.  If you keep a watch out and properly maintain roof when issues arise, you will help the longevity of your roof. Here are a few common roofing problems to keep your eyes and ears out for.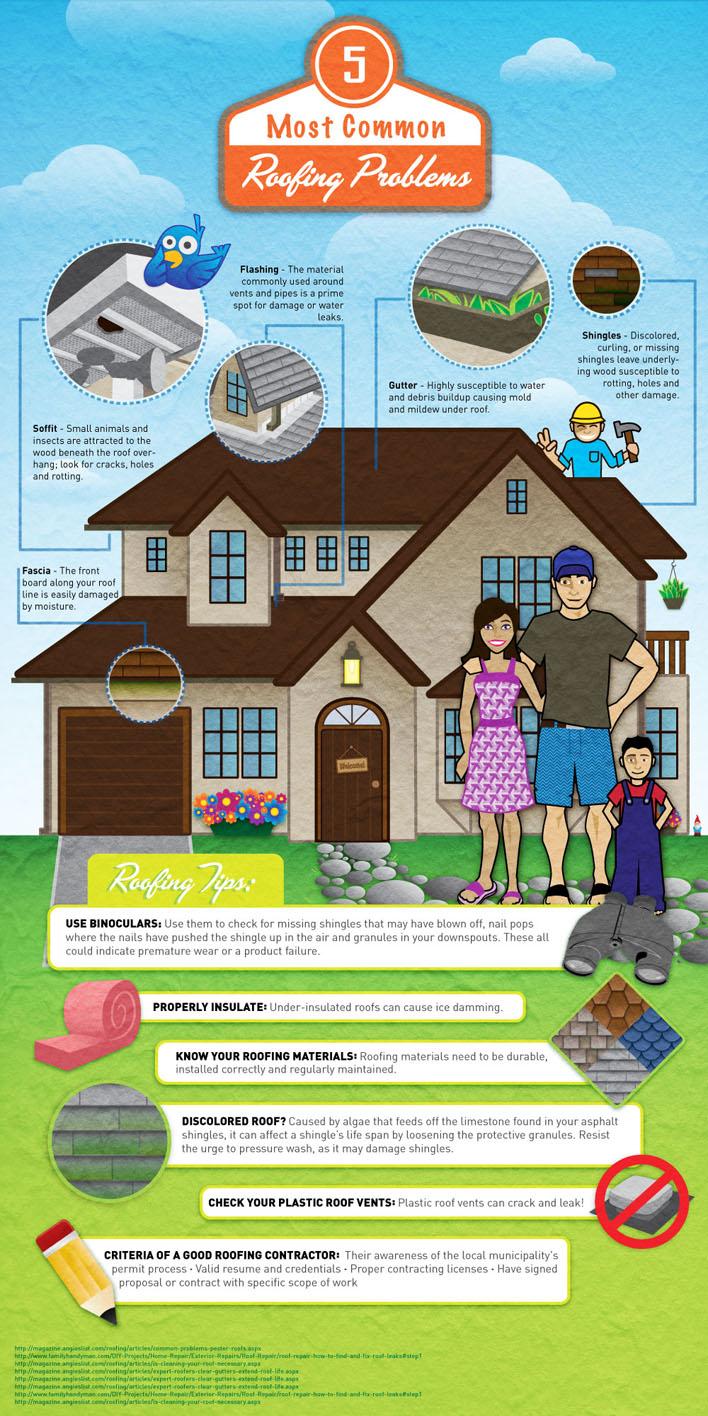 Flashing
The material commonly used around vents and pipes is  a prime spot for damage to occur or for water leaks to sneak in.
Soffit
This is the area beneath the roof overhang that small animals and insects are usually attracted to. It's a good idea to look for cracks, holes and rotting in this area.
Fascia
The front board along your roof line is easily damaged by moisture , pay special attention anytime you rinse your roof or if there is a storm.
Gutter
One of the most obvious things to cause roofing problems but easily forgotten;  our gutters are highly vulnerable to water and debris buildup! It's important to clear out your gutters regularly to avoid mold and mildew from appearing under your roof.
Shingles
Discolored, curling or missing shingles leave underlying wood vulnerable to rotting, holes and other serious damage that can lead to more serious damages.
A few tips from us
Use binoculars: Use them to check for missing roof shingles that may have blown off, nail pops where the nails have pushed the shingle up in the air and granules in your downspouts. These all could indicate premature wear or a product failure.
Know your roofing materials:  Roofing materials need to be durable, reliable, installed correctly and regularly maintained.
Roof maintenance is one of the best ways to save money on roof repairs or roof replacements.  Why buy a new roof if you don't have to.  If you need help with roof maintenance or repairs, Nor-Cal roofing would love to help.
Nor-Cal Roofing is Northern California's premier choice for residential and commercial roofing projects in Chico, Orland, Corning, Oroville, Hamilton City, Durham, Paradise and other surrounding North State areas in Butte and Glenn Counties. If you would like an estimate or consultation on roofing services please feel free to call us at (530) 892-9960!
Comments
comments