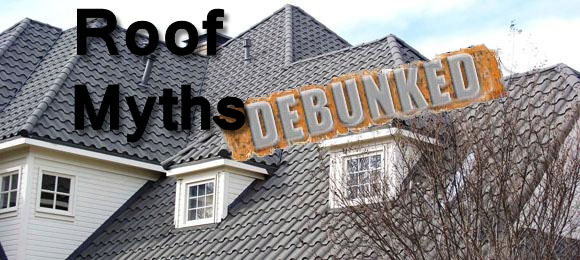 When it comes to any industry, there are always some people who will have misconceptions about what is or isn't to be expected when it comes to completing a job.  It's never a good idea to make an assumption about what's included because assumptions don't usually get you anywhere fast.  That's why we're here to help dispel a few of those myths about roofing so you  have a place to start!
I've been told it's okay to cover an existing layer of shingles with a new layer, is that true?
Nope!  Just because building codes may allow it doesn't mean you should.  Don't do it.  Just because you apply makeup doesn't mean what's under is any better off than before. It's better to repair the roof properly rather than cosmetically. If you only fix what you see and not what's under, you might get rotting wood, leaks and other issues. It's always best to completely strip the old shingles and replace with new ones.
There's no need to pay attention to what kind of shingles are up on my roof because all asphalt shingles are essentially the same right?
Absolutely not! Did you know that all shingles are rated for durability and wind resistance? Depending on what area of the country you are, you'll need different types of roofing based on the climate of your area.  Today's laminated and fiberglass products are even better than ever, allowing some to last as long as 50 years.  Shingles come in a variety of cosmetic choices as well as created to combat specific issues from humidity to algae-resistant shingles.
Flashing needs to be replaced only when a new roof is installed
If you're wondering what flashing is, it's the metal that is utilized to divert water away from vents, pipes and other roof openings. It's one of the longest lasting parts of a roof but if not properly maintained can also fail in months. Don't let your flashing be the cause of roof issues. As a general rule, flashing should be checked at least every 6 months. You don't necessarily need to get up on the roof every 6 months to get it checked out, just grab your binoculars and look for dried caulking (or sealant), broken shingles that are in contact with flashing, and cracked or broken flashing pieces. If you take a look and see anything damaged in regards to your flashing, give us a call so we can climb up on the roof and do a real roof inspection.
Attic insulation saves energy and helps roof performance

Done the right way, attic insulation can certainly help save energy and roof performance. However, done incorrectly or adding too much, it can block ventilation openings and trap moisture.  Trapped moisture can cause water damage and lead to serious issues such as mold, none of which helps improve your roof performance.
Gutters are not a part of the roofing system
It's important to remember that roofs are built with the intention of keeping things like water, leaves and other things out of your home. Your gutters are the final piece of the process, helping to prevent things from dripping into your home and exterior walls. It's now becoming more and more common for businesses to include gutters and downspouts as a roof installation plan. Gutters are an important and essential part of the roofing system.
My roof is new so it's covered by the manufacturer's warranty, home builder or contractor
That's not necessarily the case. Did you know that a lot of manufacturers warranty's explicitly exclude hail impacts from their warranty and will void the remainder of your warranty, no matter how minor the hail damage was. It's important to read a manufacturer's warranty so you know just what you're paying for.
These are just a few common roofing myths that we wanted to debunk for you. If you have any other roofing install or maintenance questions, please do not hesitate to give us a call!
Nor-Cal Roofing is Northern California's premier choice for residential and commercial roofing projects in Chico, Orland, Corning, Oroville, Hamilton City, Durham, Paradise and other surrounding North State areas in Butte and Glenn Counties. If you would like an estimate or consultation on roofing services please feel free to call us at (530) 892-9960!
Comments
comments