As residential and commercial roofers Nor-Cal roofing utilizes a variety of different materials and manufacturers in order to achieve the best result for our clients, their roofs and also their budget. One of our favorite companies to work with is Eagle Roofing Products and we thought we'd share  our top 6 reasons for why we choose Eagle Roofing Products for projects.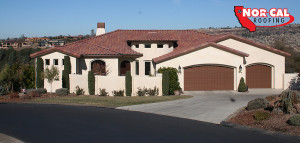 1. They're  USA Owned and USA made. We proudly support manufacturers that are usa owned and made. It's hard to find USA made products and we proudly support it when we can.
2. Locally owned. Not only is Eagle Roofing located in the USA but their headquarters are based in California with facilities as close as Stockton and Roseville. It might not be local to Orland but they're just a rock throw away. We love supporting local-ish businesses when the opportunity presents itself.
3.  High quality, durability and reliability. The high quality and durability of their tile that they provide makes it invaluable for our residential homes.
4. Variety in style. They offer one of the largest range of styles and colors for their concrete tiles, making it easy to make every client happy as well as giving us the opportunity to be diverse in all of our projects.
5. They help your projects succeed. Eagle Roofing Products offers products and services that may help a project qualify for LEED®, GreenPoint Rated, NAHB Model Green Home Building Guidelines and other green building programs making them an asset for projects that need to meet certain requirements! We sure love a company that makes its resources available.
6. Eagle Roofing practices strong recycling  and  advocates re-use when applicable! Any company that helps save money and the environment is a company that we're proud to stand behind.
These are just a few of the reasons that we love our friends at Eagle Roofing. We appreciate a product that is easy to stand behind and makes it easy to create roofs that keep our customers happy for decades to come.
Nor-Cal Roofing is Northern California's premier choice for residential and commercial roofing projects in Chico, Orland, Corning, Oroville, Hamilton City, Durham, Paradise and other surrounding North State areas in Butte and Glenn Counties. If you would like an estimate or consultation on roofing services please feel free to call us at (530) 892-9960!
Comments
comments