How to clean a roof with asphalt shingles!
Did you know that asphalt shingles are one of the most commonly used roofing materials in California? That's because they are strong, sturdy, dependable, they have a large variety of colors and textures and most importantly – they won't break your wallet!
Asphalt shingles are made up for a fiberglass mat that is saturated with asphalt and coated with mineral granules and like all things, require cleaning. Cleaning your roof is a great way to save on costly maintenance repairs throughout the year as well as to help improve the appearance and curb appeal of your home. If you're getting ready to sell your home, these few little tips can help drastically improve your roof without costing you an arm and a leg to repair or replace!
Remember to put on clothing that you don't mind getting a little dirty and/or ruined during the process – bleach is involved.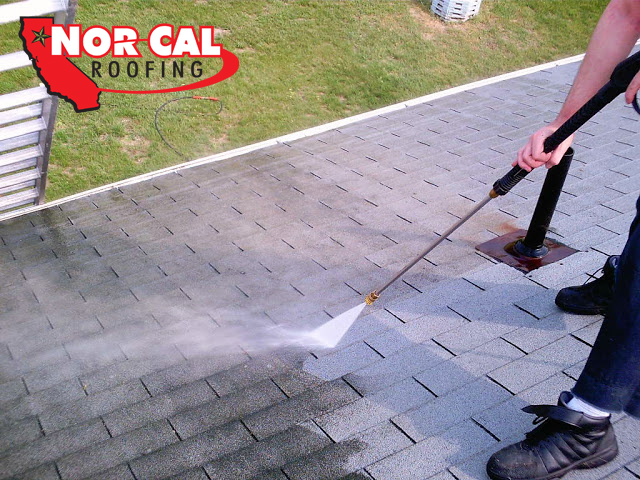 The best way to clean your roof is to create a mixture of the following:
1 ¼ gallons of water
¾ gallon of sodium hypochlorite (aka household bleach)
½ cup of trisodium phosphate
Small amount of dish washing liquid (this can help with grease removal)
Mix these ingredients together, put them in a bucket (with a sprayer) and start spraying your shingles! If you don't have a sprayer you can try to use a garden sprayer and that should get the job done. Allow the solution to set for approx 10-15 minutes and then rinse the roof with clean, solution-free water! If needed, spray the roof a second time and rinse as necessary!
Nor-Cal Roofing is Northern California's premier choice for residential and commercial roofing projects in Chico, Orland, Corning, Oroville, Hamilton City, Durham, Paradise and other surrounding North State areas in Butte and Glenn Counties. If you would like an estimate or consultation on roofing services please feel free to call us at (530) 892-9960!
Comments
comments