Summer living and life is good! Only problem is that you've got a damaged shingle on your roof (maybe a few damaged shingles). The heat can be rough, especially if it's been a while since your last roof inspection or maintenance job. We know what it's like to need to have roof shingles fixed so we're here to help you with a few tips on how to fix damaged roof shingles.
Typically when you have a roof installed, a good roofer will always make sure there are a few extra shingles left behind allowing for future fixes, repairs and maintenance. We're hoping that this is the case and that you will not have to go about in search of new tiles.  Here are a few suggestions on how to fix damaged roof shingles: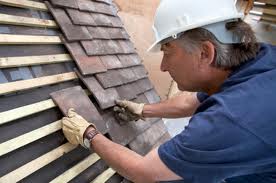 If a shingle is getting curly, it's time to start gluing!
Asphalt shingles, for various reasons, are a lot easier to fix than a tile shingle. If you feel comfortable getting on your roof and checking for curled shingles, simply use a caulking gun to apply a roofing sealant under the corner. It's always best to do roof repairs when it will be hot so that the sealant can absorb the heat! Do not ever work on your roof during wet, damp or stormy conditions.
Repair shingles with cracks
If a shingle is merely cracked – don't worry; you might not need to go as far as completely replacing it, there's a chance you might be able to merely repair it. If a shingle is cracked make sure you put a thick bead of roofing sealant under the crack! Apply pressure an press the shingle down and apply a second bead of sealant on top of the crack. Don't forget to spread the sealant with a putty knife. Simple enough right?!  It's a lot easier than replacing your shingles and it takes care of your problem.
Replace damaged roof shingles
Replacing a damaged shingle requires a few materials including (but maybe not limited) to a hammer, flat pry bar, utility knife and a handful of 11/4-in. roofing nails.  Depending on how many shingles are damaged or what the extent is, you may be able to do this yourself.  In order to start replacing or removing damaged roof shingles you're going to need to get under the shingle that is immediately above the damaged one. You can do this by gently lifting it to free it from the sealer strip.  Slide the pry bar under the damaged shingle and pry upward to pop the nail out.  If you do not feel comfortable replacing damaged roof shingles, please talk to one of our specialists so we can see how we might be able to help you out with your roof maintenance or repairs.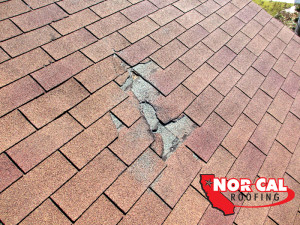 Always make roof repairs on a warm, dry afternoon; the shingles will be able to absorb the heat and less likely to crack. Remember: never climb onto a roof that's wet, icy or covered with morning dew.  Proper roof maintenance will help prevent leaks, damage and other hardships.
We always encourage our friends and clients to do regular roof inspections and maintenance as this can help strengthen your roofs life span. Taking care of your roof will save you time and money! If you have any questions or need help with your roof maintenance, we're here to help you.
Nor-Cal Roofing is Northern California's premier choice for residential and commercial roofing projects in Chico, Orland, Corning, Oroville, Hamilton City, Durham, Paradise and other surrounding North State areas in Butte and Glenn Counties. If you would like an estimate or consultation on roofing services please feel free to call us at (530) 892-9960!
Comments
comments